City of Chicago's COVID-19 Response Center
https://www.chicago.gov/city/en/sites/covid-19/home.html
COVID 19 Testing Sites – IDPH Illinois Department of Public Health (Input Zip Code)
https://dph.illinois.gov/testing
Get Hired Illinois – Employment
https://www2.illinois.gov/gethired/pages/default.aspx
Illinois Legal Aid Online
https://www.illinoislegalaid.org/about/our-work/blog/legal-issues-during-coronavirus-pandemic
Housing Action Illinois
https://housingactionil.org/what-we-do/public-education-organizing/covid-19-information-resources/
Food Pantries & Resources
Need help finding food? Find resources through the Greater Chicago Food Depository.
Follow these steps on Expensify.org (scroll to bottom of linked page) to be reimbursed for essential goods and groceries purchased with your SNAP card.
Apply for food assistance benefits through SNAP
View grocery store chains with special hours for the elderly, those who are pregnant, and other vulnerable populations.
Lakeview Pantry has expanded their Sheridan Market hours.
City of Chicago Food Resources
If you live on the South or West sides, receive public assistance (especially EBT/SNAP), and/or are 60 years or older, you can apply for one-time grocery delivery through Chicago Delivers.
Unemployment Assistance
You may be eligible for unemployment assistance if your loss of employment is due to COVID-19. Learn more.
Resources for bartenders, their spouses, and their children
Resources for restaurant workers, delivery drivers, or Uber/Lyft drivers
Resources for US citizens who are blind, disabled, or over 64 years old.
Emergency Rental & Utilities Assistance
Governor Pritzker Announces Programs for Rental and Mortgage Relief
IHDA is developing programs for Emergency Rental Assistance and Emergency Mortgage Assistance for households who have lost income due to COVID-19. Both programs are currently under development.
Applications for Emergency Rental Assistance will be available on August 10.
Applications for Emergency Mortgage Assistance will be available on August 24.
If you need immediate assistance, please speak with your landlord or mortgage servicer about your specific situation.
Application for the COVID-19 Rental Assistance Program is Now Open
The Rental Assistance program helps suburban Cook County residents having difficulty paying their rent as a result of the COVID-19 pandemic. It pays up to three months of overdue or future rent. Rental payments will be sent directly to landlords by the Housing Authority of Cook County. The program is part of the Cook County Community Recovery Initiative, funded by the federal CARES Act.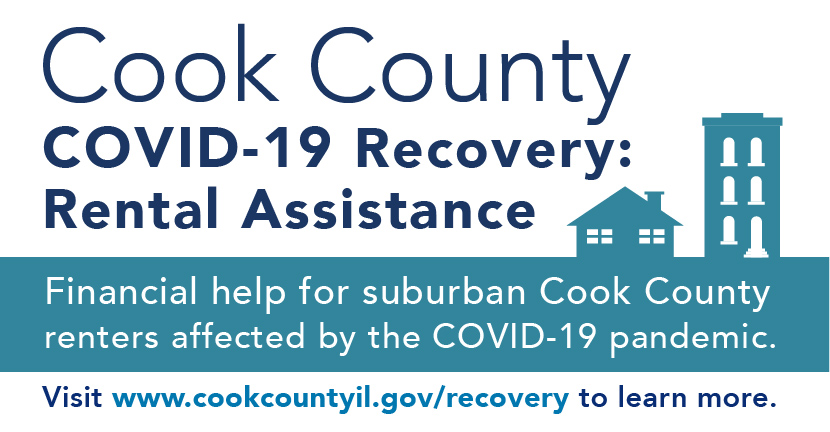 Illinois Department of Housing Services Homeless Prevention Service
City of Evanston Emergency Assistance
City of Chicago Emergency Rental Assistance Program
The Cook County Sheriff's Office has suspended all court-ordered evictions for the next 30 days.  Extended moratorium on evictions until July 31.
ComEd has voluntarily implemented a moratorium on service disconnections for non-payment, effective immediately.  ComEd has implemented a moratorium on service disconnections for non-payment. This suspension applies to both residential and commercial customers and will remain in effect at least until either the state moves to Phase 4 of the Restore Illinois plan or August 1, 2020, whichever comes first.
People's Gas has suspended shutoffs and waived late payment charges. The moratorium on disconnections ends July 26.
Support Groups & Mental Health Resources
NAMI Chicago Helpline and virtual support groups
Crisis Text Line: Text HOME to 741741 for 24/7 access to a trained crisis counselor.
Bright Star Community Outreach's trauma helpline has extended service during COVID-19.
Chicago Department of Public Health mental health centers are offering free teletherapy services.
Illinois Call4Calm 24/7 Text Line: Text TALK to 552020 (HABLAR for Spanish).
Illinois Warm Line: Mental health and substance use support. Call 866.359.7953.
Domestic Violence Resources – Recursos de la Violencia Doméstica
Between Friends
Contact:  800-603-4357
Services:  24 hour hotline, counseling, legal assistance, information & resources
SERVICIOS DISPONIBLE EN ESPAÑOL.
Center for Advancing Domestic Peace
Location:  813 S Western Ave, 60612
Contact:  312-265-0206
www.advancingdomesticpeace.org
email: info@advancingdomesticpeace.org
text: 312-834-7277
Connections for Abused Women & their Children
Location:  1116 N Kedzie Ave, 60651 (5th floor)
Contact:  773-489-9081
Services:  crisis intervention, counseling, safety planning, information, referrals, legal advocacy & child services.
SERVICIOS DISPONIBLE EN ESPAÑOL.
Family Rescue
Contact:  800-630-6619 or  773-375-8400
Services:  24/7 hotline for crisis intervention, individual counseling, advocacy, information and referrals.
SERVICIOS DISPONIBLE EN ESPAÑOL.
H.O.P.E. Domestic Violence Counseling – St. Pius V – Chicago
Contact:  312-226-6161
Services:  Counseling and comprehensive services.
SERVICIOS DISPONIBLE EN ESPAÑOL.
I Am Able Center for Family Development
Location:  3410 W Roosevelt Rd, 60624
Contact:  773-826-2929
Email:  info@iamablecenter.org
Hours:  Mon-Thurs 9:00-7:00; Fri & Sat 9:00-5:00
Services: Counseling for anger management, domestic violence or DCFS referral; pre-marital counseling; restorative justice counseling.  Violence prevention through partnership with Chicago CRED.  Healthy decision making and relationship training through partnership with Family Bridges.
Requirements:  Referral from an agency (e.g., DCFS, church, school, police) or self referral; ID & insurance cards (if available); proof of most recent 30 days of income
Insurance: Medicare, Medicaid, private insurance
Fees:  Intake fee of $45/individual or $60/family, then sliding scale.  NO ONE IS TURNED AWAY DUE TO INABILITY TO PAY.
Illinois Domestic Violence Hotline
Contact: 877-863-6338
www.domesticshelters.org
Services:  24/7 hotline staffed by trained advocates; speak confidentially about safety plans and resources.
SERVICIOS DISPONIBLE EN ESPAÑOL.
Illinois Coalition Against Domestic Violence
Contact:  877-863-6338
Life Span
Contact:  847-824-0382 (counseling services)   312-408-1210 (legal services)
Services:  Counseling (individual & group), legal assistance & court advocacy; immigration legal services.
Requirements: Serves victims of domestic violence land sexual assault.
Metropolitan Family Services
Contact:  312-986-4265  or  630-469-5650 (24/7 hotline)
www.metrofamily.org
Internet Assistance
Comcast is offering new low-income families two months of free internet service through their Internet Essentials program. Apply and find more details.
AT&T is offering discounted internet for $10/mo through its Access plan.
Xfinity is currently offering free WiFi hotspots.
Legal Support
Circuit Court Will Begin Hearing All Matters, Effective July 6
Effective June 26, 2020, until further order of the court, in light of the global coronavirus COVID-19 pandemic, and in order to protect the health and safety of the general public and court employees, the Chief Judge of the Circuit Court entered General Administrative Order 2020-02 (Link to GAO 2020-02). Until further order of court, effective July 6, 2020, the circuit court will begin hearing all matters in all Districts and Divisions of the court with the exception of jury trials.
Legal Aid Chicago is open and working remotely. Clients can contact Legal Aid at 312.341.1070 or go to their website.
Other legal resources, including FAQs about labor laws relating to COVID-19:
COVID-19 or Other Public Health Emergencies and the Fair Labor Standards Act Questions and Answers
Legal Aid at Work Coronavirus FAQs (available in English, Spanish, and Chinese)
City of Chicago Paid Sick Leave Ordinance
Friends or family of people being held in pre-trial detention can request bond money through the Chicago Community Bond Fund.
Westside Justice Center is open and providing services remotely. To contact WJC, call 773.940.2213.